Everyone is affected by varying degrees of stress and anxiety. Too much stress causes fatigue and is dangerous to health. Serious stress such as a job loss or death of a loved one can become life threatening.
Causes of stress include drug addiction, alcohol dependence, lack of sleep, overwhelming personal problems, depression, sudden change of lifestyle, allergies, chronic illness, mineral depletion, noise pollution, overcrowding, and poverty.
Symptoms of stress vary among individuals but may include losing interest in activities, creases in the forehead, clenched jaws, constipation, diarrhea, weight gain, weight loss, mood swings, crying spells, becoming short-tempered, tiredness, anger, insomnia, paranoia, panic attacks, anxiety, sadness, chronic head and neck aches, high blood pressure, lowered immunity, upset stomach, skin disorders, kidney malfunction, frequent infections, asthma, heart disease, mental problems, and nervous breakdown.
Many health problems are aggravated by stress and anxiety. Migraines, ulcers, back pain, diabetes, PMS, asthma, digestive problems, and heart disease are often stress related.
Diet and herbs can help relieve stress
The body is designed to handle stress but sometimes it needs help. Good nutrition is vital to controlling the harmful effects of stress. Protein and mineral rich foods are good choices for helping the body to overcome stress. Vegetables, whole grains, seafood, soy foods, fresh fish, carrots, brown rice, eggs, and sprouts can greatly benefit the body in stressful times. Adding brewer's yeast, toasted wheat germ, sunflower seeds, and molasses to the diet is also recommended.
Fight stress with healthy adrenal glands
During times of extreme stress, it is good to support the adrenal glands with green drinks, calcium supplements, vitamin C supplements, ginseng and honey tea, astragalus, ginkgo biloba, or licorice extract. Other herbs to try include valerian, wild lettuce, bee balm, passion flower, catnip, rosemary, lemon balm, and chamomile.
Ease stress, anxiety, and tension with aromatherapy
Aromatherapy is often used to relieve stress. Lavender, chamomile, rose, and ylang-ylang essential oils are good choices. Use in massage oils and warm baths for best results.
Stress is immediately reduced when having a good laugh (watch a funny movie or search the internet for humorous jokes). Regular deep breathing exercises, meditation, prayer, aerobic exercise, listening to favorite music, visiting with friends, short vacations, creative hobbies, and celebrating family traditions can also bring relief.
If the workplace is stressful, learn to delegate some responsibilities whenever possible. Don't sweat the little things. The world will continue even if a few things are left undone. Learn to live in the here and now. You can't change the past and the future has not arrived yet. Appreciate life as it is happening and worries will usually fade away. As they say, "Take time to smell the roses."
When under a lot of stress, avoid caffeine and smoke. Never eat on the run, while working, between meals, or while watching television. Mealtime should be a relaxing time so that food can be properly digested.
* Always consult with a healthcare professional before taking any herbal remedies especially when pregnant, nursing, or taking prescription medications.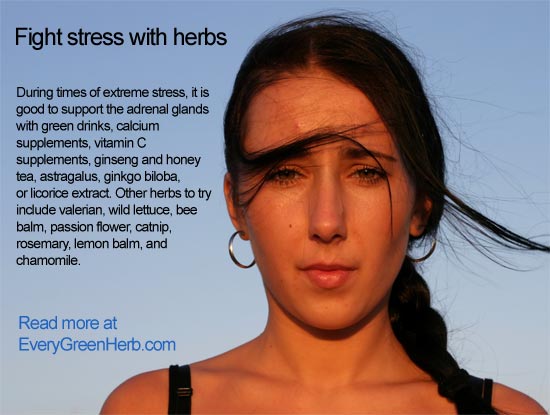 © Kmitu | Dreamstime Stock Photos
Fight stress and tension with herbs like astragalus and bee balm.