Herbs help people around the world
People around the world depend on herbs for treating sickness and disease. From aromatherapy to Zen meditation, there are many methods that deliver excellent results.
People have used herbs for thousands of years
Most medical systems have been around for thousands of years. India produced the first medical system, Ayurveda or the "Science of Life," 6000 years ago. Oriental medicine, around for more than 5,000 years, combined such specialties as herbal medicine and acupuncture.
The Bible references herbal medicine many times in the Old and New Testaments. One verse, Proverbs 27:25 reads, "The hay appeareth, and the tender grass sheweth itself, and herbs of the mountains are gathered." Back in the days of King Solomon, people depended on prayer and herbal remedies for all their health problems.
All cultures utilize native herbs for healing. Herbal medicine has many attractions. It can be broad-based for complete body support or specific to a particular problem.
There are many reasons to use herbs for healing
Herbal medicine is relatively inexpensive. Herbal medicines are a foundation, working through the glands to nourish the body's basic elements. Herbs are not addictive. Herbal medicines do not overwhelm the body's immune system -- instead they help build immunity.
Herbs have gone through centuries of testing and produce expected results. They work best in their natural state and require no complicated processing. Herbs protect and heal with little danger of toxicity. They can be taken on an empty stomach. Herbs address the symptoms and the causes of a problem. They rarely cause side-effects (although anything taken in excess can cause problems). Herbs cleanse, lubricate, and tone specific parts of the body.
Herbal medicine schools in the USA
Many schools are located around the United States to accommodate the growing demand for professional herbalists. There is the Southwest Institute of Healing Arts, the East West School of Herbology, the Appalachia School of Holistic Herbalism, the American College of Acupuncture and Oriental Medicine, the Maryland University of Integrative Health (which offers a Master of Science Degree in Herbal Medicine) and many more around the country.
Synergy -- an interesting concept that applies to the use of herbs
Students of Herbal Medicine quickly learn the meaning of "synergy." Synergy is a governing principle in preparing herbal remedies. Synergism states that the strength of the sum of the parts is greater than the strength of the individual. An example is the combination of ginseng and licorice. The synergy of the two herbs makes a medicine that is many times more effective than either herb alone (ginseng and licorice work together as a powerful immune system stimulant). Still, even while keeping synergy in mind, remember that herbs are also often used alone. Try individual herbs before using blends.
Modern herbal therapists gather as much information as possible about the people they treat. Interviews center on complaints, symptoms, current treatments, medical history, past injuries, lifestyle, sleeping patterns, diet, emotional state, work, and environmental hazards. Herbalists agree that treatment plans must address the whole person - mind, spirit, and body.
Herbs can help most problems
In a world full of sickness and disease, herbs offer many benefits. They are readily available, easy to use, safe, and can help most problems. For more detailed information about herbal medicine, visit a local library, utilize the internet, or sign up for a class.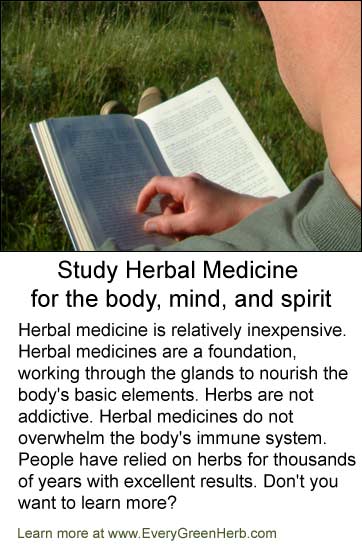 © Muriel Lasure | Dreamstime Stock Photos
The study of herbs and herbal medicine provide a foundation for a healthy mind, spirit, and body.