Herbal baths relax, stimulate, calm, moisturize, and heal
Herbal baths can relax the body, stimulate blood flow, calm the emotions, moisturize the skin, aid digestion, and heal various other complaints. Infusions (strong tea), essential oils, and herbal bath salts are the best way to get the benefits of herbal plants into the bath water.
Use essential oil in the herbal bath
Relaxing baths are a great sleep aid. For a sedative effect in the bath, use valerian, lemon balm, marjoram essential oil, lavender essential oil, hop, passion flower, sweet Melissa, sandalwood essential oil, or bergamot essential oil. Chamomile essential oil is also good for relaxing tired, achy muscles.
Rosemary essential oil, peppermint, lemon, and mandarin essential oils are good additions for a stimulating bath. Invigorating baths improve the circulation and aid digestion. Try using a herbal salt scrub for smoothing skin. If using essential oils, use only a few drops to avoid irritation and burning sensations.
Use powdered milk and olive oil in the herbal bath
Powdered milk may be added to the bath as a moisturizer. Add two tablespoons of olive oil and a few drops of rose essential oil or jasmine essential oil, too. Any fine vegetable or nut oil may be used in the bath. Almond oil, avocado oil, sunflower oil, safflower oil, walnut oil, and grapeseed oil are all excellent additions for moisturizing the skin.
For dry, flaky skin try scrubbing with an oatmeal sachet. Just tie up a good portion of oatmeal in a clean handkerchief or thin cloth. Gentle rubbing will get rid of dead skin especially on the elbows, thighs, and hips. Exfoliation is a great way to get a younger looking complexion.
Repair damaged skin with herbal sage bath
To stimulate healthy skin growth, add sage, parsley, sandalwood essential oil, or thyme essential oil (along with vegetable oil) to a warm bath. These herbs have antioxidant properties that help heal and repair the skin.
Use of essential oils in the bath (or in massage) helps improve lymphatic drainage and blood flow. Toxins and cellular debris are more quickly cleared from the body resulting in improved health and vitality. Eat a diet rich in antioxidants for best results. Fresh unprocessed foods, whole grains, fruits, and vegetables should be eaten daily.
For arthritis or joint soreness, use fresh sage, lavender flowers, and bay leaves (or bay essential oil). Steep in boiling water for three minutes and then simmer gently for fifteen minutes. Strain into bath and try to relax while taking slow, deep breaths. This technique is a great pain reliever. For added relieve sip willow or oak bark tea immediately before or during bath.
Take a frankincense essential oil bath for headache relief
For tension headache, panic attacks, or stress related problems try adding frankincense essential oil and chamomile essential oil to the bath. Combine with olive or peach kernel oil for added benefits.
Herbal foot baths treat insomnia
Foot baths are used to treat everything from the flu to varicose veins. Submerge both feet in a deep enough container so that water goes up to the calves. A cold foot bath can relieve headache and insomnia. Alternating hot and cold water helps improve circulation. Try soaking in hot water for two minutes, then cold water for one minute. Repeat 10 times. To ward off colds and flu add strong mustard, freshly grated ginger, or horseradish to foot bath and soak twenty minutes.
* Discontinue use of any herb or essential oil if burning or irritation develops.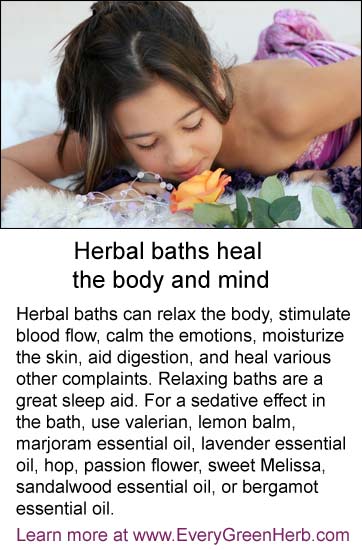 © Galina Barskaya | Dreamstime Stock Photos
Herbal baths can relax the body and stimulate blood flow.