The skin is the body's largest organ. Skin is made up of multiple layers that protect the body from germs and other environmental toxins. Skin has many purposes including temperature regulation and insulation. A film called the "acid mantle" covers healthy skin and acts as a barrier. Skin also contains naturally occurring oil called "sebum" that protects and lubricates.
Skin can develop many problems. Symptoms of poor skin health include sores, spots, cracks, oiliness, dryness, scaling, itching, chapping, pimples, and rash. Causes are varied and may include stress, caffeine overload, allergies, high copper levels, poor digestion, constipation, poor circulation, lack of exercise, sun damage, irritating cosmetics, liver malfunction, air pollution, dehydration, and drug or alcohol abuse.
Healthy skin requires good diet and lots of water. Include citrus fruits, whole grains, carrots, beets, cucumbers, and other fresh veggies in the diet to maintain beautiful skin.
Herbs can heal and balance skin
Many herbs (which are packed with minerals, antioxidants, and bioflavonoids) are great for the skin. Herbs can help cleanse, hydrate, heal, and balance the skin.
Herbs to heal and protect the skin
Herbs especially suited for use in healing and protecting the skin include rose hips, evening primrose oil, green tea, echinacea, sage, ginseng, calendula, burdock root, rosemary, aloe, dandelion, lavender, and chamomile. Any herbal tea that cleanses the blood can be used to improve the skin. Drink in tea or apply as lotion.
Essential oils can work wonders on the skin. Ylang-ylang, lavender, sandalwood, and frankincense are favorites. Aging skin benefits from gentle massage with rose oil or carrot seed oil (blended with a good carrier like almond or grape seed oil).
Many ordinary kitchen ingredients can benefit the skin. Yogurt facials help balance ph. Oatmeal exfoliates dead cells. Apple or papaya pulp can improve acne break-outs. Egg white applications temporarily smooth wrinkles (whip egg white, apply to skin and let dry, apply warm wet wash cloth on face to soften egg mask, and gently peel or slide egg white off of face). A mixture of honey and red wine can help aging skin look supple and refreshed (leave on for twenty minutes, then rinse well). Finish all treatments with an application of gentle non-petroleum moisturizer.
Moisturizers that contain petroleum products like mineral oil just sit on the skin. These moisturizers can block pores and cause blackheads. Any good vegetable oil is much more appropriate. Almond oil, walnut oil, olive oil, safflower oil, sesame seed oil, grape seed oil, and jojoba oil sink in to deliver nutrients and are sold at most health food stores.
Skin loves vitamin E. Add quality cold-pressed olive oils which are full of vitamin E to the diet and avoid rancid, off smelling oils. Rancid oils harm the skin and are extremely damaging to the whole body. Keep all oils in a cool, dark place and discard if they start to smell off.
Early morning sunshine can be of benefit to the skin. Of course, over exposure to damaging rays is one of the worst things for the skin. Never allow skin to burn and get in the habit of applying sunscreen on a daily basis.
* Always consult with a healthcare professional before using any herbal remedy especially during pregnancy or while taking prescription medications.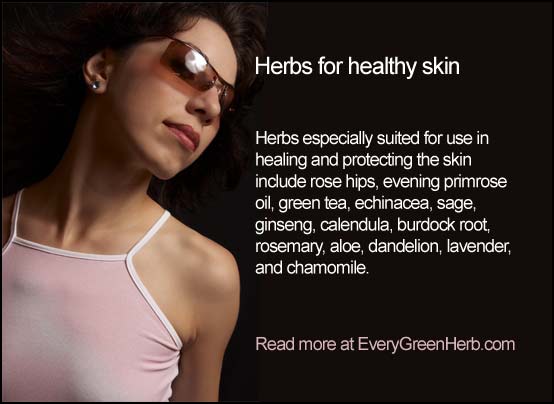 © Adela Manea | Dreamstime Stock Photos