There are many types of cancer including carcinoma, melanoma, sarcoma, lymphoma, and leukemia. There are over 200 kinds of diseases that are classified as cancer and the list grows as we move away from nature depending on pesticides, herbicides, and other poisons.
The best defense against cancer is good diet, a clean environment, and healthy lifestyle. Avoid smoke, synthetic hormones, x-rays, excessive alcohol, artificial sweeteners, and large amounts of caffeine. Other things to avoid include metal-canned foods (glass jars are fine), plastics, most genetically modified foods (GMO's), hydrogenated vegetable oils, processed foods, pesticides, herbicides, and heavy metals.
Drink green drinks and herbal teas when suffering from cancer
Cancer patients can benefit greatly from fresh juice and vegetables, a low-fat diet, green drinks, royal jelly, ginseng, and various herbal teas. Herbs that build up liver function and the immune system are excellent additions to the diet. Many herbalists recommend cartilage supplements such as bovine tracheal cartilage which is sold at most health food stores. Many cancer patients find that early morning sunshine and exercise help increase vitality.
Chemo patients benefit from herbal remedies
Patients undergoing chemotherapy benefit from reishi mushrooms, astragalus, Echinacea, yellowroot, and flax seed oil. All antioxidants and bioflavonoids are helpful. CoQ10, Germanium, Beta Carotene, and vitamin C supplements should also be considered. Nothing beats cannabis for overcoming nausea associated with cancer and chemotherapy. Smoking marijuana increases the appetite, helps dulls pain, and offers many other benefits.
Breast cancer survivors should reduce dietary fat. Diet should include sea vegetables and potassium rich foods. Ginseng, royal jelly, and evening primrose supplements can also help. Fresh rosemary should be consumed daily in food or as a tea. White pine bark and grape seed extract is also recommended.
Prostate cancer and herbs
Prostate cancer survivors can benefit from beta carotene and soy. Fiber is important and fresh vegetables should be eaten at every meal. Broccoli, cauliflower, carrots, sweet potatoes, ginseng, licorice root, saw palmetto, zinc, garlic, vitamin C, and vitamin D can help.
Colon cancer and herbs
Colon and rectal cancers call for vitamin C with bioflavonoids, green drinks, wheat bran, soy foods, legumes, dried fruits, green salads, and folic acid. Garlic, turmeric, evening primrose oil, flax seed oil, ginseng, reishi mushroom extract, ginkgo biloba, astragalus, and shitake mushroom are also recommended.
Ovarian cancer and herbs
Ovarian cancer survivors should never use artificial sweeteners or talcum powders. Shark cartilage, royal jelly, licorice, beta carotene, vitamin C, vitamin E, and ginseng are recommended.
Bladder cancer and herbs
Bladder cancer survivors should avoid smoke. Cold water fish, vitamin E, vitamin B6, vitamin C, folic acid, and zinc can help. Also sea vegetables and citrus fruit should be eaten daily.
Lung cancer and herbs
Lung cancer patients are advised to eat lots of tomatoes, broccoli, watercress, and other vegetables. Garlic, onions, and soy should also be added to the diet. Green tea, beta carotene, vitamin E, vitamin B complex, folic acid, germanium, royal jelly, and reishi mushrooms are also recommended.
Stomach and esophageal cancer and herbs
Stomach and esophageal cancer patients should avoid all nitrates and eat small, frequent meals. Olive oil, vitamin C, vitamin E, CoQ10, ginseng, licorice, and shark cartilage can help. A diet with lots of broccoli, cabbage, soy, whole wheat, bran, onions, asparagus, avocados, grapefruit, oranges, green peppers, and tomatoes is best.
Liver cancer and herbs
Liver and pancreatic cancer patients should avoid alcohol and antihistamines. Diet should include broccoli, cabbage, and tomatoes. Green drinks, vitamin C, flax seed oil, milk thistle seed, garlic, dandelion, and yellowroot show good results.
Brain cancer and herbs
Brain cancer survivors should avoid pesticides and artificial sweeteners. Green drinks, wheat germ extract, and ginkgo biloba extracts are beneficial. Some herbalists recommend that grape juice compresses be applied to the back of the neck. Leave on until dry.
Lymphoma and herbs
Lymphoma cancer may be related to mercury fillings and prescription drug addiction. Take liver cleansing herbs like milk thistle seeds and drink lots of green drinks.
Skin cancer and herbs
Skin cancer patients should stay out of the sun and tanning beds. Wheat germ oil, brewer's yeast, green tea, royal jelly with propolis, ginseng, burdock tea, vitamin C, shark cartilage, and lots of vegetables are recommended. Applications of calendula, yellowroot, or myrrh compresses can speed healing.
How did Cancer get named Cancer?
How did cancer came to be called "cancer"? After all, other diseases aren't called Pisces or Sagittarius. Turns out that around 400 B.C., Hippocrates named masses of cancerous cells karkinos — Greek for crab. The tumors he examined were hard like a crab shell, had fingers like crab legs, and wouldn't let go.
* Always consult with your healthcare professional before using any herbal remedy.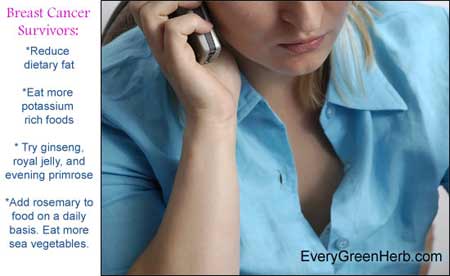 © Abdone | Dreamstime Stock Photos
When recovering from cancer, take herbs that build the immunity like astragalus.