There are two main causes of premature aging. One is cell and tissue damage caused by free radicals.The other is a reduced immunity that puts the body at risk for disease. Herbal remedies can help fight free radicals and help build immunity.
Healthy diet reduces signs of aging
Adding antioxidants (which fight free radicals) to the diet is the best remedy for aging. Fresh fruit and vegetables, organically grown if possible, should be consumed daily. Whole grains, nuts, seeds, beans, and sprouts insure free-flowing digestion free from constipation. Flax, sesame, sunflower, and pumpkin seeds help rid the body of parasites. Cultured foods including yogurt, cheese, tofu, wine, and raw sauerkraut are also beneficial.
Live enzymes like kelp help reduce signs of aging
Sea-weeds provide needed enzymes and can easily be added to soups and sauces. There are many kind on the market today. Kelp and bladderwort have a salty taste. Yakama, kombu, and sea palm are sweeter. Nori and arame are slightly sour.
Fish and seafood should be included in the diet to enhance metabolic balance. Plenty of water, herbal teas, and green drinks are recommended to keep the body's pH in balance. Poultry, meat, butter, eggs, and dairy should be eaten in moderation. Fried food, caffeine, red meat, and refined foods should be avoided. Reducing dietary fat and limiting exposure to air pollution, toxic substances, tobacco, and rancid foods can significantly reduce free radical damage and reduce the effects of aging.
Herbs like astragalus and echinacea help reduce signs of aging
Herbs that fight free radical damage include pine bark, grape seed, ginkgo biloba, shiitake mushroom, raishi mushroom, astragalus, alfalfa, evening primrose, black currant, borage, Echinacea, Hawthorne , and licorice.
Herbs that strengthen the immune system include ginseng, guto-kola, burdock, bilberry, and cayenne.
Even a little exercise makes a big difference
Exercise is important for strengthening the immune system. Exercise also strengthens the muscles, nerves, blood, glands, lungs, heart, brain, and mind while lifting one's mood. Good metabolism is optimized by exercise. A little exercise makes a big difference when one wants to age gracefully.
Stretching helps regenerate tissue
Stretching only takes a few minutes but can help regenerate tissue and clear the body of waste. Stretching improves circulation, energy, strength, enzyme function, and reduces stress.
As we age, our skin loses its youthful appearance. Wrinkles, dryness, and age spots appear. For removing prominent age spots and reducing wrinkles use lotion that contains natural alpha-hydroxy acids. One tablespoon of elder flowers or chopped parsley mixed with a teaspoon of lemon juice is an old recipe for banishing age spots. Add a little water if needed to form a paste. Apply the lotion three times a day, leave on for five minutes, then rinse with water. Repeat the process regularly for two or three months to see more beautiful skin.
Rose, ylang-ylang, and other herbs help fight wrinkles
Some essential oils work on the skin to fight the effects of aging. Frankincense, ylang-ylang, lavender, and rose essential oils can restore a youthful look and feel to the skin. Look for quality ointments, lotions, toners, and moisturizers that contain real essential oils (instead of artificial fragrances).
Lactic acid in milk, citric acid in fruit, glycolic acid in sugar cane, and malic acid in pears and apples are other examples of hydroxy acids and are used in many skin rejuvenation remedies. Milk baths, fruit masks, and honey lotions have been used in various cultures for thousands of years. These are easily made and are safe to use as home remedies.
* Some people may experience side effects such as burning, skin irritation, redness, and possible scarring from the use of alpha-hydroxy acids. Always test on a small area of the wrist before applying to the face. Do not apply to sensitive eye areas. Alpha-hydroxy products cause sun sensitivity. Always apply sunscreen before going outside when using any alpha-hydroxy acid.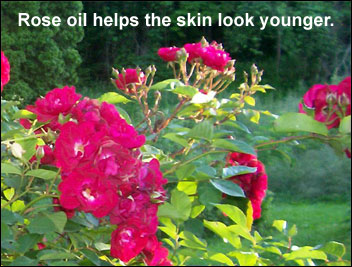 Many herbs can help aging skin. Herbs can also fight the effects of an aging body.