Women's problems include everything from delayed periods and mild infections to severe menopausal symptoms and ovarian cancers.
Yeast infections are a common complaint and are considered a condition, not a disease. Symptoms include itching, irritation, inflammation, unpleasant odor, discharge, swelling, and pain. Causes may stem from long exposure to antibiotics, a weakened immune system, ph imbalance, and hormonal imbalances. Sometimes spermicidal cream can aggravate a yeast infection. The cream kills friendly bacteria that helps protect the vagina from disease causing micro-organisms.
Herbal remedies for yeast infections
Many herbal remedies can help heal yeast infections. Herbal douches include diluted solutions of calendula, tea tree oil, witch hazel, sage, myrrh, chamomile, white oak bark, vinegar, black walnut hull extract, barberry, cinnamon, mullein, rosemary, garlic, goldenseal, yellowroot, echinacea, raspberry or blackberry leaf, grapefruit seed extract, chlorophyll liquid, or salt water. Yogurt may also be beneficial. Use of fluorinated cortisone cream is not recommended. This treatment causes thinning and atrophy of skin.
Women that suffer from reoccurring yeast infections need to drink cranberry juice and green drinks. They should add garlic to the diet and consider taking vitamin B, vitamin K, vitamin C, vitamin E, and beta carotene supplements. Drinking herbal tea is helpful. Try licorice, squaw vine, and alfalfa. Avoid sugar, refined carbohydrates, yeasty breads, and mushrooms.
Suppositories may be of use in the treatment of yeast infections. Combine a quarter cup of warm cocoa butter with 20 drops of tea tree oil and 10 drops of thyme essential oil. Mix well. Roll into 10 bullet shaped suppositories and place on a plate lined with waxed paper. Place in refrigerator until firm and then store in covered container. Use as needed until condition is cleared up.
Herbs for vaginal dryness
Vaginal dryness is a problem for many women. Blend equal parts distilled witch hazel and pure aloe vera gel. Mix in some slippery elm powder. Use as lubricant. Rejuvenate the vagina with a mixture of almond oil, ylang-ylang essential oil, and lavender oil. Rose essential oil also works well but is extremely expensive.
Diet to increase fertility
Fertility problems are becoming more and more common. Women considering pregnancy should try eating more sesame seeds, pumpkin seeds, nuts, avocados, dried apricots, carrots, soybeans, and oily fish. Drinking nettle, red clover blossom, and raspberry leaf tea can also help increase fertility. Calcium and magnesium supplements are also beneficial.
Herbs that help PMS and menstrual problems
Unpleasant menstrual problems, PMS, and menopausal symptoms can be reduced with herbs. Add foods that contain baron to the diet such as leafy veggies, fruit, nuts, and seeds. Eat more calcium rich foods like corn, tofu, broccoli, and non-fat dairy. Reduce sugar and alcohol intake. Use evening primrose oil, turmeric, milk thistle seed extract, ginseng, wild yam, chasteberry, and black cohosh in teas and lotions. Exercise regularly and get a massage at least once a month. Painful periods and cramps can be relieved with raspberry leaf and ginger tea. Also try valerian, peppermint, licorice, black cohosh, yarrow, and strawberry leaf.
* Always consult with a health care professional before using any herbal remedies especially when pregnant, nursing, or taking prescription medications. Never take any herbal remedies in early pregnancy (especially blue or black cohosh).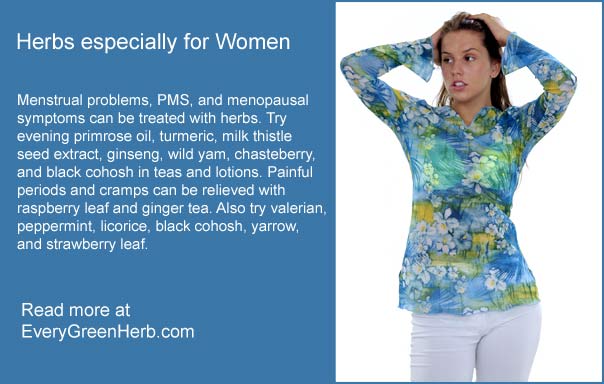 © Twmedia | Dreamstime Stock Photos