Juniper essential oil has a peppery, fresh aroma
Juniper essential oil is extracted from juniper berries by steam distillation. The scent is peppery, clear, fruity, and fresh. Juniper is especially suited for treating prostate problems, urinary disorders, gout, arthritis, and muscle pain.
Juniper essential oil is used for treating water retention, depression, and more
Juniper can help relieve upset stomach and colic. It is good for treating enlarged prostate, kidney stones, urinary infections, chills, water retention, obesity, painful periods, warts, skin growths, blocked pores, herpes, depression, dandruff, lice, and worms. Juniper helps detox the liver, intestines, and bladder. It regulates the appetite, energizes the body, stops drowsiness, stimulates circulation, clears mucus from the digestive tract, and helps shrink hemorrhoids.
Juniper essential oil is good for treating acne - dilute with witch hazel
Juniper essential oil is a mild disinfectant useful for chronic skin conditions like eczema and psoriasis. Juniper is also good for treating acne. Combine one drop of juniper oil with a half cup of witch hazel and a half cup of rosewater. Apply to skin with cotton balls using a gentle circular motion. Do not scrub.
Use juniper essential oil to stop muscle pain
Add juniper essential oil to massage rubs and ointments. It helps relieve joint and muscle pain.
Add juniper essential oil to chest rubs
Juniper essential oil is also added to chest rubs. Mix with thyme essential oil and a good carrier (such as almond oil) for treating coughs, colds, and flu symptoms. For joint pain, mix juniper with safflower (as carrier), lavender, and rosemary essential oils. Rub into affected area as needed for pain.
Use in massage to rid body of excess acid
Juniper is good for clearing out acid waste from the body especially when used in massage therapy and the bath. It is recommended for people with lots of cellulite. Use juniper daily for up to four weeks then give it a rest for a month or two. Juniper has been associated with cleansing rituals and purification ceremonies since ancient times.
In aromatherapy, juniper essential oil brings about peaceful, loving feelings
Juniper oil can help calm the nerves by bringing about feelings of love, peace, health, and tranquility. The aroma relieves stress, anxiety, and mental exhaustion. Juniper may be used in burners and vaporizers, lotions, creams, ointments, massage oils, bath oils, and compresses. For best results, blend with cedarwood, geranium, grapefruit, lavender, bergamot, lime, clary sage, or lemon grass essential oils.
Juniper essential oil is added to gin, soaps, and perfumes
Juniper berries and juniper essential oils are used to flavor gin. The oils are also added to soaps, perfumes, air fresheners, and incense. Juniper essential oil is even used as a household disinfectant. Dilute with water and use on most hard surfaces.
Juniper essential oil helps get rid of fleas and ticks
Juniper essential oil is a good flea and tick preventive for pets. Mix a few drops of juniper and eucalyptus essential oils with water in a spray bottle. Apply to pet and bedding on a daily basis. If your animal has dry scaly skin, add 4 drops of juniper essential oil to the bath water. This will help heal and protect the pet's coat and skin.
* Do not use juniper oil if you are pregnant or have kidney disease. Do not take essential oils internally without consulting a qualified professional. Always dilute essential oils with good carrier oil (such as almond) and test on small area of skin before use. Always consult with a healthcare professional before using any herbal remedy especially if pregnant, nursing, or taking other medicines.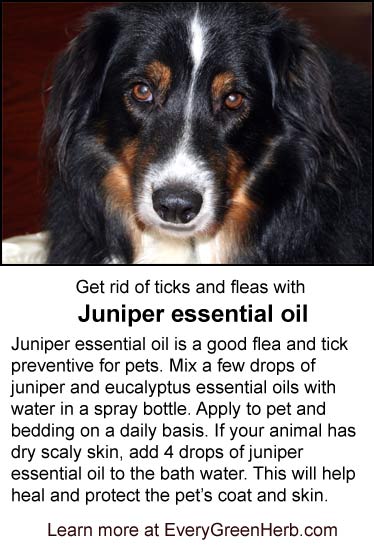 © Patricia Marroquin | Dreamstime Stock Photos
Juniper essential oil helps get rid of fleas and ticks on cats and dogs.