Tips for making your own natural household products
Make your own homemade herbal cleaning products, toothpastes, gargles, spritzes, drain cleaners, and more! There are many ways that herbs can be used in our daily lives including potpourri, make-up, and household products. Herbalists tend to use herbs for all kinds of things. A good mouthwash can be made from a pint of strong peppermint tea. Add anise, cloves, cinnamon, or rosemary for flavor and added benefits. Combine with a pint of sherry and a few drops of myrrh tincture for daily use.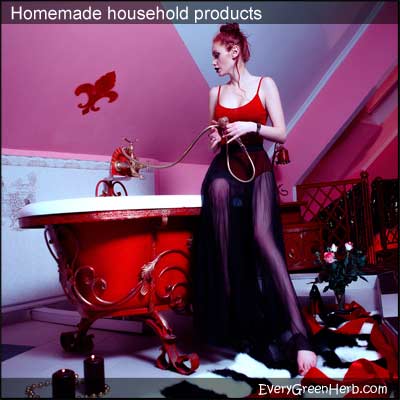 Photo of woman and bathtub courtesy of Pexels.com
This woman scrubs her tub with a paste of baking soda and water. Natural household products are effective, inexpensive, and better for the environment than harsh chemicals.
Use myrrh toothpaste to heal gum disease.
Myrrh is a good investment. An excellent treatment for mouth and gum problems, it can be bought in powdered form and sprinkled on toothpaste right before brushing. Myrrh is known to prevent and cure periodontal disease. Make your own myrrh toothpaste by combining a dab of coconut oil and a sprinkle of myrrh powder. Brush gently in circular motions taking care not to injure delicate gum tissue.
Herbal spritz for the face and home
Try a refreshing spritz throughout the work-day. Combine 2 drops of a favorite essential oil, 1 ounce of distilled water, a dash of aloe juice, and a splash of vegetable glycerin in a spray bottle. Close eyes and spray lightly on face to cleanse, vitalize, and hydrate skin. This spray can also be used as a natural air-freshener.
Upholstery shampoo gets fabric clean without toxic chemicals.
Here is a simple recipe for upholstery shampoo. In a large bowl, mix 6 tablespoons of pure soap flakes with 2 tablespoons of powdered borax. Slowly add 1 pint of boiling water and mix well. Let cool, add a few drops of favorite essential oil, then whip into foam with electric mixer or egg-beater. Apply dry suds to hidden part of furniture, wait a few minutes, and then wipe off with a damp sponge. If colors do not bleed, then continue until upholstery is clean and fresh.
A natural rug freshener is cheap and easy.
Combine 1 cup baking soda with a half-cup of any crushed, scented floral material such as lavender flowers or geranium leaves. Sprinkle liberally on rug, leave for an hour or two, and shake off outdoors. Vacuuming baking soda or any powder can cause motor failure so beware before using on large area rugs or wall-to-wall carpet. You don't want to ruin your vacuum cleaner.
Drain problems? Use baking soda and vinegar.
Are your drains sluggish? Pour one-half cup of baking soda down the drain. Then pour in one-cup of vinegar. Stand back just in case reaction is more than expected. After several minutes, flush with a gallon of hot water. Don't be alarmed if it foams up like a volcano and do not get the mixture in your eyes! Don't fret too much, this method is much safer than commercial lye drain-cleaners.
Simple recipe for windshield cleanser
Here's a recipe for windshield cleanser. Mix one-half cup of cornstarch with 2 quarts of warm water. Vinegar can be added for extra strength. To prevent streaking, do not use in direct sunlight.
Easy leather or vinyl car upholstery cleanser recipe
Need to clean leather or vinyl car upholstery? Try mixing 2 tablespoons of vegetable-oil soap (castile soap), one-fourth cup of olive oil, and one teaspoon of lemon essential oil. Test on hidden spot before rubbing entire area.
Natural car wax can be made at home
A natural car wax can be prepared at home. In a double boiler, melt 7 tablespoons of beeswax with 12 tablespoons of carnauba wax. Remove from heat and cool slightly. Add 2 cups of mineral oil, 4 tablespoons of turpentine, and 1 tablespoon of pine oil. Mix and pour into an old, clean coffee can. To use, scoop up a small amount of wax with a soft dish-cloth. Rub wax onto the automobile with small circular motions and let it sit for a couple of minutes. Buff to a high shine. All auto paints are not the same. Test first on a hidden part like under the hood.
Natural beauty products, cleansers, and fresheners are good for the body, mind, and environment. They are not expensive and give good results.



"The only way to really learn about herbal medicine is to touch and smell herbs, taste them, use them daily, and grow them if possible. Herbal medicine is a way of life. It is not a quick fix." ... Janice Boling, herbalist, web designer, writer, photographer
"Ointment and Perfume Rejoice the Heart." Proverbs 27:9
* Note - the information on this website has not been evaluated by the Food and Drug Administration.
© 2005-2018 website and all content by Janiceboling