Tips for using zingiber (ginger) in herbal medicine and home remedies
Zingiber Officinale, better known as ginger root, is a warming circulatory stimulant and body-cleansing herb. It is useful in the treatment of many conditions including sinus congestion, sore throats, edema, digestive problems, nausea, motion sickness, arthritis, headaches, and coughs.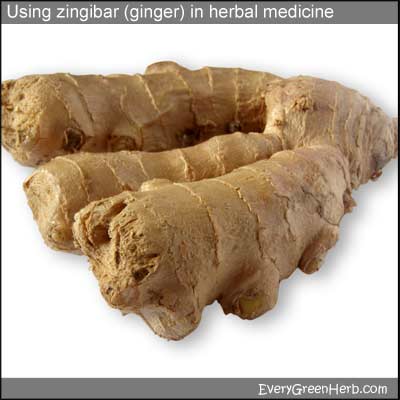 © Maphalda | Dreamstime Stock Photos
Zingiber is also known as ginger. It is a delicious addition to lots of recipes.
Zingiber is an appetite stimulant and is often used in cooking.
It has a warm, fresh taste that is peppery and spicy. Gingerbread gets its flavor from ground or powdered ginger. Many oriental dishes use pieces of sliced root. The scent of ginger is uplifting and comforting.
Ginger has many uses in herbal medicine.
As a herbal remedy, ginger is often used to break up phlegm, reduce fever and chills, balance cholesterol, dry up runny noses, prevent nausea, stimulate circulation, ease muscular pain, increase bile secretions, promote sweating, stop diarrhea, ease abdominal bloating, regulate menstrual periods, and soothe morning sickness.
Ginger is known to stimulate kidney activity, which helps remove toxic wastes from the body. Ginger improves liver function by converting cholesterol into bile acids. Like garlic, ginger can help make blood platelets less sticky.
Use ginger essential oil to increase blood flow.
Ginger essential oil is good to rub on bruises and carbuncles due to its antiseptic properties. Ginger essential oil makes an excellent addition to massage oil, especially when treating arthritis and muscle pain. For best results combine with juniper oil and a carrier such as almond or olive oil. When used in massage, blood flow to the area increases dramatically.
Motion sickness? Try ginger.
Ginger is great for motion sickness and works better than over-the-counter products. Drink ginger tea or chew crystallized pieces before and during trips. GInger is also great for stopping morning sickness caused by pregnancy.
Use ginger for cramps, bloating, and gas.
For cramps and menstrual problems, ginger tea may be used in a compress and applied directly to the abdomen. This method also helps relieve bloating and gas.
Ginger has a long history.
Traditional Chinese medicine has recommended ginger for over 2,500 years to treat abdominal bloating, coughing, vomiting, diarrhea, and arthritis. The Chinese people use ginger to warm the stomach, dispel chills, and reduce the toxicity of some other herbs.
Ginger stimulates digestion.
Ginger is not recommended in the treatment of ulcers but may help prevent them. Ginger is an aromatic bitter that stimulates digestion and helps keep intestinal muscles toned. The use of ginger eases transport of materials through the digestive tract, lessoning irritation to the intestinal walls.
Ginger is a bushy, perennial plant that grows up to four feet tall.
The plant likes rich, moist soil with good drainage. Native to tropical regions, ginger loves heat and humidity. In Georgia the plant can be grown in containers and moved indoors during winter. To start ginger, plant a fresh root with sprout end up and one eye just above the soil. Protect from high winds and low temperatures.
* Long-term use or high doses of ginger during pregnancy is not recommended. Inform your doctor if using ginger before surgery. Do not use in large amounts if you have gallstones or ulcers. Always dilute ginger essential oil before use. Always consult with a physician before using any herbal remedy.


"The only way to really learn about herbal medicine is to touch and smell herbs, taste them, use them daily, and grow them if possible. Herbal medicine is a way of life. It is not a quick fix." ... Janice Boling, herbalist, web designer, writer, photographer
"Ointment and Perfume Rejoice the Heart." Proverbs 27:9
* Note - the information on this website has not been evaluated by the Food and Drug Administration.
© 2005-2017 website and all content by Janiceboling