Salt scrubs are easy to make at home
Resorts and day spas offer many luxuries including soothing massages, aromatherapy baths, mud packs, and salt scrubs. Tired skin is rejuvenated and busy minds are calmed during the process. It takes a professional to do a good massage, but aromatherapy baths, mud packs, and salt scrubs can be done at home. To remove dead cells, to draw out toxins, and to give the skin a healthy glow, try a salt scrub.
Herbal scrubs are easy to make with simple ingredients
Purchase a pound of natural sea salt, a good cold-pressed vegetable or nut oil, and any favorite essential oil. My favorite, Lavender essential oil is always a good choice for any skin type and it is not as expensive as some of the other florals. Ylang-ylang and rose essential oils are excellent for the skin if you have them on hand.
Easy herbal salt scrub recipes and directions
Measure about a cup of salt and pour into a wide-mouth jar (or bowl) leaving 2 inches head-space. Pour the oil over salt until covered. Add 5 to 10 drops of essential oil and stir with wooden spoon. Use on wet skin or in the shower with a gentle circular motion. Go easy, you don't want to be left with abrasions. Rinse and towel dry.
Another salt scrub recipe uses equal measures of sea salt and Epsom salts, almond oil to cover, 6 drops of lavender oil, 6 drops of patchouli oil, and 3 drops of orange oil. Herbal scrubs stimulate circulation and remove dead skin cells. They leave the skin glowing and soft.
Ginger salt scrub for feet and elbows
A mix of ordinary cooking ingredients can produce a wonderful scrub. Add a quarter cup of powdered ginger root, one-half cup of ordinary table salt, and the juice of two limes to one-half cup of warm olive oil. Use this gritty paste to exfoliate feet, elbows, and other rough places. The ginger root will leave skin tingling and smooth.
Dry skin? Try a no-salt herbal scrub recipe
Here's a scrub recipe that is good for dry facial skin -- no salt (which can cause more drying). Grind 1 cup of oats into a fine powder. Put in a bowl and add one-fourth cup of ground poppy seeds or almonds. Add a cup of fine cosmetic clay. Add one-fourth cup of dried herbs such as lavender, rose petals, calendula, comfrey, or chamomile, in any combination. Mix well and store in a large wide-mouth jar with a tight fitting lid (keeps for up to six months in the refrigerator). Use a small amount of scrub on wet face with gentle circular motions.
Base choice of essential oil on skin type
The choice of essential oils in a scrub should be based on skin type. Chamomile, lavender, carrot seed, and ylang-ylang essential oils are good for moisturizing fine wrinkles. Dry skin can benefit from geranium, frankincense, lavender, and sandalwood. Teenage acne calls for lemon grass, lavender, lemon thyme, tea tree, or sage. Sensitive skin will soak up chamomile or rose oil without causing any irritation.
Essential oils come in many unique scents
Essential oils have a vast array of scents ranging from intensely floral to sharply antiseptic. Rose, ylang-ylang, jasmine, gardenia, and neroli essential oils have the intoxicating fragrance of exotic flowers. Rosemary, tea tree, eucalyptus, and sage essential oils have a clean, medicinal scent. If possible, experiment with individual oils before using blends. Each person's system is unique and reactions to different oils can be surprising.
Use common sense
If you are attracted to an essential oil then use more of it. If you are repulsed by an essential oil, discontinue use. Do not overuse essential oils. A few drops go a long way. Always dilute essential oils before applying to skin. Do not take them internally unless directed to do so by your healthcare professional.
* Always use common sense when preparing herbal beauty products for home use. Discontinue use if irritation develops.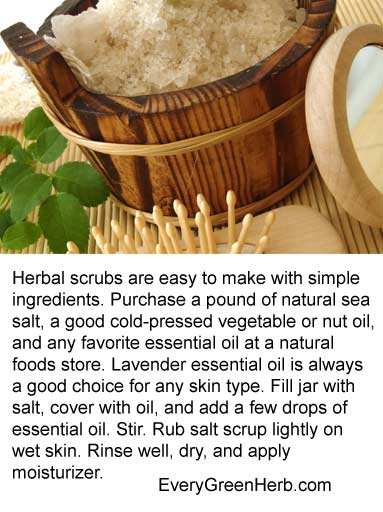 © Viktoriia Kulish | Dreamstime Stock Photos
Herbal salt scrubs are easy to make at home and they are good for the skin.