Protect against colds and flu - add more pumpkin, cinnamon, cloves, allspice, ginger and nutmeg to diet
Pumpkin pie is a good choice for dessert. Lower in calories and fat than most desserts, pumpkin pie is packed full of vitamins, minerals, and medicinal spices to build immunity before flu season.
Everyone should eat lots of pumpkin, squash, and sweet potatoes when they come into season! These orange vegetables are super foods -- packed full of life giving nutrients. Maybe not too much pie if you're watching your waistline, but do consider less fattening pumpkin and squash dishes. The goal is to get the squash, sweet potatoes, pumpkins, and the spices - cinnamon, cloves, allspice, ginger, and nutmeg into the diet during the late summer and autumn months before cold season starts.
Medicinal spices, like most medicinal herbs, build immunity
Cinnamon, cloves, allspice, ginger, and nutmeg are all warming spices that help build immunity and protect against germs. Use in teas, soups, vegetable dishes, salads, and other recipes. Sprinkle on baked squash and sweet potatoes.
Use medicinal spices to sooth symptoms of colds and flu
Cinnamon, cloves, allspice, ginger, and nutmeg can also help if a cold or flu strikes. They can sooth the worst symptoms and shorten duration of illness.
Using cinnamon as a medicinal spice
Cinnamon is a pungent, sweet smelling, warming herb that stimulates the circulation. Cinnamon is used internally to help digestive problems, reduce flatulence, ease cramping, and provide relief from diarrhea. Its warming action is used to treat colds, flu, body aches, arthritis, and rheumatism.
Using cloves as a medicinal spice
Cloves help to relieve pain, stop nausea, and remove toxins from the body by speeding up digestion. Cloves also help heal inflammation, kill intestinal parasites, and act as an agent against fungus and bacteria. Cloves contain antihistamine properties that help control mucus buildup. Cloves are highly antiseptic and protect against viral infections. Clove essential oil is a well known home remedy for tooth ache pain relief.
Using allspice as a medicinal spice
Allspice is antiseptic and also helps clear the body of mucus. In herbal medicine allspice is used for treating bruises, colds, diarrhea, fatigue, painful spasms, gas, indigestion, and menstrual cramps.
Using ginger as a medicinal spice
Ginger has expectorant properties that helps keep the lungs clear. Ginger increases perspiration, improves digestion, stimulates liver function, stops nausea, controls vomiting, and relieves coughing spells. It stimulates circulation, relaxes spasms, and relieves pain. Ginger is used internally for motion sickness, nausea, indigestion, morning sickness, colic, abdominal chills, colds, flu, and coughs due to cold.
Using nutmeg as a medicinal spice
Nutmeg is used internally to treat diarrhea, dysentery, vomiting, abdominal bloating, indigestion, colic, and respiratory problems. Use sparingly because a little nutmeg goes a long way.
Autumn Spicy Pudding/Pie recipe
A good recipe to incorporate pumpkin, cinnamon, cloves, allspice, ginger, and nutmeg into the diet is as follows. Cut one pumpkin, cushaw, or butternut squash in half and remove the seeds and stringy pulp. Place upside down in an oven proof dish and bake until tender. Cool, remove tough outer skin, and mash like potatoes (an electric mixer works). For each cup of mashed pulp, add a fresh egg, a pinch or two of salt, sugar to taste, around a quarter cup of evaporated milk (or half and half), a splash of vanilla flavoring, one teaspoon of ground cinnamon, a quarter teaspoon of ground cloves, a quarter teaspoon of ground ginger, a quarter teaspoon of ground allspice, and an eighth teaspoon of ground nutmeg. Miniature marshmallows, cream cheese, maple syrup, chia seeds, pecans, or other nuts can also be added if desired. Stir well and bake in a buttered casserole dish until set like Jell-O. Serve plain as a side dish or like custard with whipped cream for dessert. Can also be used as pie filling.
* Do not consume warming spices if you have ulcers. Always consult with your healthcare provider before using any herbal remedy especially if pregnant, nursing, or taking other medicines.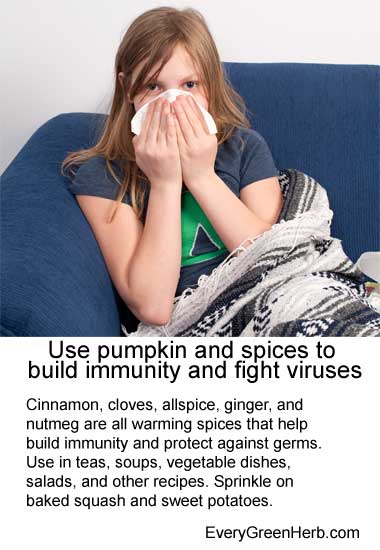 © Brad Wynnyk | Dreamstime Stock Photos
Combine pumpkin, squash, sweet potatoes with medicinal spices to build immunity and fight viruses.