Love patchouli or hate it?
Patchouli essential oil is distilled from the dried branches and leaves of the patchouli plant. Patchouli has a strong earthy scent that is sensual and musky with a lingering spicy base note that improves with age. Most people either love it or are repulsed by it -- so use patchouli as a perfume base with this in mind. Aged patchouli can smell heavenly. A poor quality patchouli can smell like dirty feet.
Moths hate patchouli
The patchouli plant is a member of the lavender family and is native to Bengal, India. Patchouli is used to repel moths from fine fabrics such as silk and cashmere. It first came to Europe and then America, in crates containing cashmere shawls. Many Victorians loved the exotic scent and patchouli "perfume" became very popular.
Use patchouli essential oil to treat depression
Patchouli essential oil is an anti-depressant, a sedative, and a nerve tonic. It is used as an aphrodisiac, an insect repellant, and to sooth dry skin. It is used on bug bites, in love potions, and in face creams.
Use patchouli in small amounts
Patchouli is often added to the bath to calm the nerves and relieve anxiety. It is also combined with almond oil and used as a skin moisturizer. Patchouli is very calming when used in small amounts and is very useful when treating insomnia. When overused, it can cause over stimulation and loss of appetite.
Patchouli essential oil helps during and after weight loss
Patchouli is sometimes used as an aid to weight loss. It helps tighten up loose skin after weight loss, helps clear the body of cellulite, and is diuretic.
Patchouli is an antiseptic
It is used on minor burns and irritated skin to help heal and protect. In some countries, patchouli is used as a deodorant and is a good antiperspirant. It is also useful in the treatment of nausea, headaches, colds, abdominal pain, and diarrhea.
Patchouli balances hormones and helps heal the skin
Patchouli helps balance the endocrine system and libido. It can cool inflamed conditions and is useful when treating oily scalp, cracked skin, dandruff, psoriasis, tired feet, eczema, acne, sores, scar tissue, and athlete's foot.
Patchouli essential oil encourages regeneration of skin cells
Patchouli is believed to have skin regenerative properties. It encourages replacement of skin cells. Patchouli helps with menopausal sweating and varicose veins. It can also be used as a masking agent for unpleasant smells.
Patchouli is used in aromatherapy to increase clarity and to relieve depression
In aromatherapy, patchouli essential oil is considered grounding and balancing. It increases mental clarity and objectivity which makes it an excellent addition to meditation. Patchouli is useful when treating depression, frigidity, anxiety, and other stress related conditions. It mixes well with many essential oils including sandalwood, frankincense, bergamot, cedarwood, myrrh, jasmine, rose, and citrus essential oils.
Patchouli's aroma is persistent and lingering
Patchouli essential oil has a persistent, lingering smell and is often used as a fixative in perfumes and other beauty products. Patchouli is cultivated in Malaysia as well as China, India, the West Indies, and South America. The leaves are often fermented to weaken the leaf cell walls to produce a better yield.
* Keep all essential oils away from the eyes. Do not take essential oils internally without consulting a qualified professional. Always dilute essential oils with good carrier oil and test on small area of skin before use. Always consult with a healthcare professional before using any herbal remedy especially if pregnant, nursing, or taking other medicines.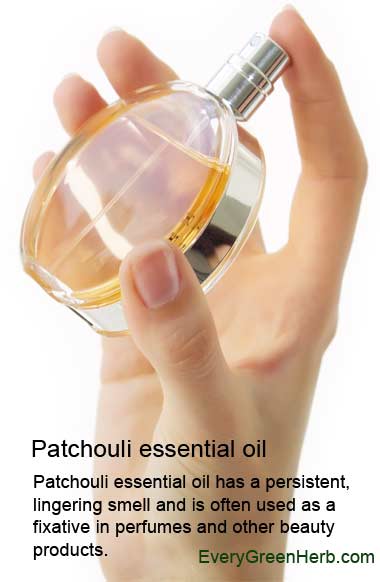 © Anton Maltsev | Dreamstime Stock Photos
Patchouli essential oil is used in aromatherapy and in perfumes.