Grapefruit Essential Oil is sweet and sharp
Grapefruit essential oil has a sweet, sharp, and refreshing scent that uplifts the spirit and purifies the air. It is cold pressed from the rinds of ripe grapefruits.
Use grapefruit essential oil to treat obesity
Grapefruit essential oil is used in the treatment of colds, flu, acne, obesity, fluid retention, depression, nervous tension, stress, and PMS. It can sometimes increase hair growth. Grapefruit essential oil is both euphoric and hypnotic. It helps stabilize manic depression and balances the central nervous system.
Grapefruit essential oil helps rid the body of toxins
Grapefruit essential oil stimulates the lymphatic system and helps rid the body of toxins. It also stimulates bile production and helps digestion. It helps clean the kidneys and liver and is sometimes used to ease drug withdrawal. It is also good for jet lag.
Grapefruit seed extract purifies water
Grapefruit seed extract is made from grapefruit seed pulp. It is used as an antioxidant, a cleanser, a preservative, and to purify water. It is not an essential oil but does have many useful properties and is often used in herbal medicine. Grapefruit seed extract is also useful as a vegetable and fruit wash. Just dilute with water and dip in fresh produce to remove germs and toxic chemicals.
Grapefruits are also good as a fruit. They are very nutritious and are an excellent food choice.
* Do not take essential oils internally. Always dilute essential oils with good carrier oil (such as almond or olive) and test on small area of skin before use. Always consult with a healthcare professional before using any herbal remedy especially if pregnant, nursing, or taking other medicines. Do not eat grapefruits or drink grapefruit juice if taking some cholesterol lowering medications including statins like Zocor.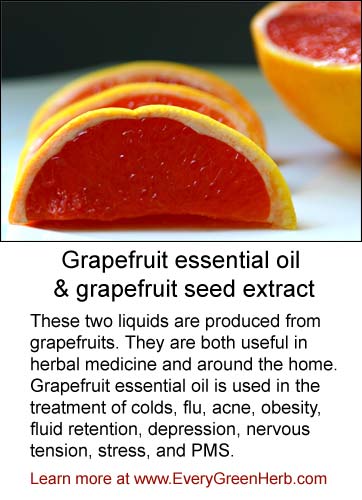 © Anita Nowack | Dreamstime Stock Photos
Grapefruit essential oil uplifts the spirit and purifies the air.