Use eucalyptus essential oil for lung problems
Eucalyptus essential oil is the oil of respiration. The plant, which has a sharp, refreshing scent, thrives in the swampy areas of Australia. It is used in the treatment of colds and flu, bronchitis, sore throat, aching joints, muscle pain, sinus infections, asthma, infections, burns, arthritis, blisters, chilblains, cystitis, diarrhea, fevers, malaria, and herpes. Eucalyptus oil is antiseptic, antispasmodic, and expectorant. It purifies the air and helps the body to take in more oxygen (especially when used in the morning).
Eucalyptus essential oil for insect bites and wounds
Eucalyptus essential oil is also applied to insect bites and wounds. Eucalyptus clears the head with its refreshing, stimulating, uplifting, decongestive, and cleansing properties.
Use eucalyptus essential oil in aromatherapy
Eucalyptus essential oil aids concentration and clears the air after an argument.
Eucalyptus can help arthritis pain
For best results when treating arthritis, blend eucalyptus oil with juniper essential oil and lemon essential oils.
Use eucalyptus essential oil to repel insects, as an expectorant, and to treat sore throat
If used as an insect repellant, blend with bergamot essential oil and lavender essential oils. To increase expectorant properties, blend with mint essential oil, thyme essential oil, lemon balm essential oil, anise essential oil , or fennel essential oil. Use in a compress to relieve fever and skin irritations. Use as a steam inhalant, chest rub, or in the bath for respiratory problems. When congested, rub a drop on each foot before bedtime. For sore throat, combine with tea tree essential oil and peppermint essential oil and rub on neck, around the ears, and on the chest area.
Eucalyptus essential oil can remove tar
Eucalyptus essential oil can be used to remove tar from the skin and clothing.
* Avoid eucalyptus essential oil if you have high blood pressure or epilepsy. Use only for two weeks at a time.Do not take essential oils internally. Always dilute essential oils with good carrier oil before use (such as almond or olive oil). Always consult with a healthcare professional before using any herbal remedy especially if pregnant, nursing, or taking other medicines.
See more about Eucalyptus - the plant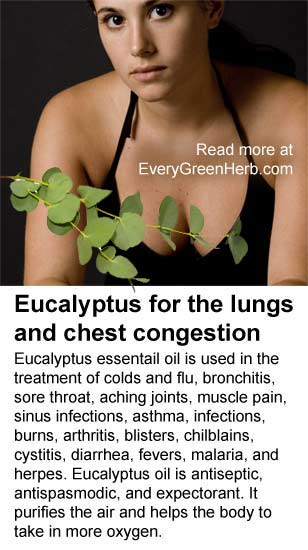 © Phil Date | Dreamstime Stock Photos
Eucalyptus essential oil is used to treat the lungs.