Echinacea boosts the immunity and increases resistance to disease
Echinacea or Purple Cone Flower is a well-known plant. It is valued for boosting the immune system as well as producing beautiful blooms in the flower garden. As a medicinal herb, echinacea strengthens the body's resistance and helps fight infection caused by bacteria, fungus, and virus. It also is considered a lymphatic tonic.
Echinacea protects against colds and flu
Scientific tests have shown that echinacea increases the production of white blood cells. It also increases the body's production of interferon which helps fight colds and flu . Echinacea should only be taken for 6 to 8 weeks at a time. Stop for 2 or 3 weeks and then begin again.
Use echinacea tincture as a gargle to treat sore throat
When using the herb as a wash for external applications, apply to affected area frequently. Dried echinacea can be used as a dusting powder on boils and eczema. The root is known to help kidney infections. Diluted echinacea tincture makes a good gargle for all throat problems, especially sore throats. Echinacea tea can be used for colds, flu, fever blisters, gingivitis, yeast infection, and food poisoning.
Use echinacea with elder flower or catnap when congested
If treating any condition with mucus, phlegm, or congestion, combine echinacea with catnip or elder flower. When using echinacea for helping get over the flu, use with fever reducing herbs like yarrow.
Native Americans were familiar with echinacea. They used it for snakebite, fever, and to treat old, stubborn wounds.
Plant echinacea in dry areas for beautiul blooms
Echinacea is native to North America and is considered a wildflower. It grows abundantly in the great plains and does well here in the North Georgia mountains during dryer years. Echinacea, or purple coneflower, is resistant to heat, and cold but doesn't like wet conditions. Butterflies and bees love the knee-high plant. Echinacea makes a beautiful cut flower that is long lasting. Many varieties are available in garden centers and some have a sweet scent. Echinacea blooms the first year from seed if planted early.
It is easy to prepare echinacea for winter storage. Just harvest after the plant flowers, wash off any dust, tear into pieces, and dry. Store in air tight containers away from light and heat.
* High doses of echinacea can cause nausea and dizziness. Consult with a physician before taking echinacea if you have an autoimmune disease such a s TB, lupus, collagen disease, or multiple sclerosis. Sometimes people that are allergic to daisies, mums, asters, or ragweed may experience a reaction to echinacea. Always consult with your physician before using any herbal remedy.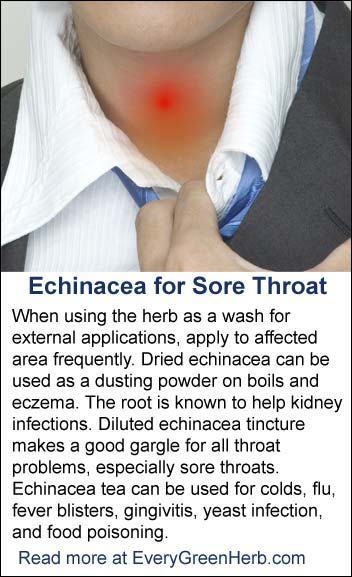 © Phil Date | Dreamstime Stock Photos
Echinacea is used in herbal medicine to build immunity. It also helps heal sore throats, fever blisters, and infections.