Clary sage heightens awareness
Clary sage essential oil is distilled from the leaves and flowering tops of the salvia sclarea plant and should not be confused with common or Spanish sage oils. It is often used to heal eye problems, digestive problems, nervous disorders, menstrual irregularity, and kidney disease. It should not be used when consuming alcohol (because it heightens the state of drunkenness).
Use clary sage in aromatherapy
Clary sage essential oil is used in aromatherapy as an aid to meditation. It brings about a feeling of well being and satisfaction. It is a feel-good essential oil that is well suited for treating PMS and menopausal symptoms. Use clary sage essential oil for scarce periods, nervous fatigue, varicose veins, painful periods, anxiety, inflammation, labor pains, mature skin, and postnatal depression.
Clary sage is known to have intoxicating properties and is sometimes used in the production of wine and vermouth. (It is also a key ingredient in Eau de Cologne.) Clary sage essential oil is used in many herbal products (especially facial cleansers).
Clary sage essential oil brings relaxation
Clary sage relaxes the nerves and soothes anxiety. It is astringent and produces a cooling effect when diluted and used on the skin. Clary sage essential oil reduces fevers, relieves bloating, stimulates digestion, lowers blood pressure, uplifts the spirit, and is excellent for the female system.
Clary sage is balancing, euphoric, sedative, and an aphrodisiac. Used before bed time, clary sage may bring about vivid dreams and encourages recollection upon awakening. Clary sage is often used to overcome anxiety. It is also used in the treatment of backaches, muscle stiffness, cramps, sore throat, respiratory infections, and as a uterine tonic.
To soothe the eyes, soak a clean cotton cloth in a mixture of warm water and a few drops of clary sage essential oil. Relax and place the compress over both eyes for ten minutes.
Clary sage is good for hair and skin
Clary sage has regenerative properties and may encourage hair growth. Clary sage helps limit sebum production and is often used to treat dandruff and oily skin. Clary sage should not be used during pregnancy, but may be helpful once labor is well advanced.
Other kinds of sage oils include common sage and Spanish sage. Common sage oil is sometimes considered toxic and should be used with extreme care.
Spanish sage (salvia lavendulaefolia) essential oil is considered a cure-all in Spain. It is used to treat everything from headache to digestive complaints. Spanish sage essential oil is good for fighting skin infections, stress, gum infections, hair loss, and fluid retention. It is cleansing and detoxifying. Spanish sage essential oil is extracted from a shrubby evergreen that loves hot weather.
Use sage essential oil to purify the air
All three sage essential oils are very powerful substances and can cleanse and purify the air in sick rooms.
* Always dilute sage essential oils before using in the mouth or on the body! Use sage oils in moderation and no more than for two weeks at a time. Do not use common sage oil or Spanish sage oil when pregnant, on babies, or in cases of hypertension or epilepsy. Keep all essential oils away from the eyes. Do not take essential oils internally. Always dilute essential oils with good carrier oil and test on small area of skin before use. Always consult with a healthcare professional before using any herbal remedy especially if pregnant, nursing, or taking other medicines.
Also see culinary sage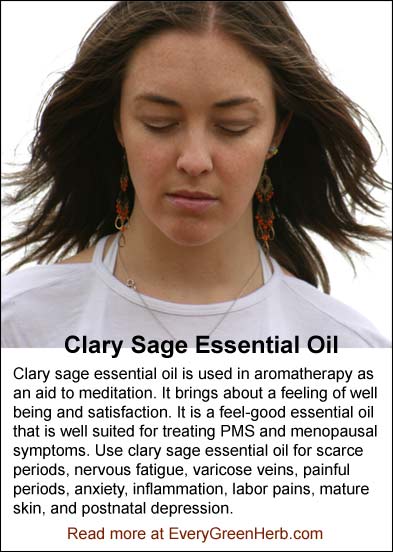 © Andres Rodriguez | Dreamstime Stock Photos
Clary sage essential oil is used to treat a variety of women's problems including PMS.