Using chamomile in herbal medicine and home remedies
Chamomile makes an excellent herbal tea and contains many healthy substances including bioflavonoids, luteolin, and quercetin. Chamomile is good for poor appetite, indigestion, heartburn, insomnia, anxiety, stress, headache, and irritable bowel syndrome. Chamomile skin washes and ointments help insect bites, wounds, itching, and other skin irritations.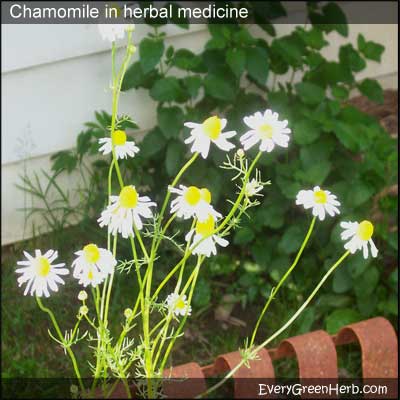 Chamomile flowers grow in a pot at Payne Mountain Farms. Photo by Janice Boling
Chamomile flowers are dainty and look like small daisies.
Chamomile tea is delicious.
Chamomile tea, made from the dainty, white flowers of the plant, helps nausea and calms the stomach. It is suitable for relaxing the nerves in stressful situations. Unlike many herbal teas which taste bitter, chamomile tea is mild and delicious with a slight flavor of apples.
Chamomile tea is used in the treatment of everything from mouth sores to sprained ankles.
Strong chamomile tea makes a good mouthwash that relieves mouth ulcers and canker sores. It even helps control periodontal diseases. Inhaling the steam from a hot cup of chamomile tea not only calms the nerves, but can sooth hay fever, bronchitis, and asthma. Used with witch hazel, it can even help eczema. A chamomile compress can ease sprained ankles and relieve inflamed joints.
Chamomile is good for aging skin and all types of hair.
Chamomile tea is one of the oldest herbal remedies and beauty products. The plant is originally from Europe and Western Asia. Many Europeans use chamomile tea to treat eye infections such as pink-eye and blocked tear-ducts. To make an eye wash, brew a weak tea with the dried flower tops and distilled water, strain through coffee filters, and apply the cooled liquid every few hours for a couple of days. Many people believe that chamomile improves the elasticity of the skin, thus improving an aging complexion. Chamomile tea is considered an excellent hair rinse and it keeps blonde hair bright and shiny.
Weak chamomile tea can be useful in the treatment of morning sickness.
During pregnancy, a weak chamomile tea can reduce morning sickness symptoms. When sipped slowly while nursing a baby, the tea can help prevent baby's colic. It is also useful in the baby's bath to encourage a peaceful sleep -- just float a tea bag in the bath water.
Chamomile essential oil is a rare treat.
The real stuff is pale blue and expensive. Chamomile essential oil is used in baths, herbal lotions, massage, and aromatherapy to help treat PMS, menopausal symptoms, liver problems, cystitis, stress, insomnia, and muscle inflammation. Chamomile essential oil is used to treat skin conditions like burns, blisters, boils and acne. It can even cure athlete's foot if used on a regular basis.
Chamomile increases white blood cell production.
Chamomile is known to increase production of white blood cells. Chamomile promotes a feeling of comfort, stimulates the memory and respiratory system, and helps overcome exhaustion.
Chamomile tea helps ulcers and speeds healing.
Chamomile tea shields ulcers, fights fungal invaders, soothes upset stomachs, helps mend torn tissue, kills staphylococcus and streptococcus bacteria, and generally protects and heals the body. This gentle tea may even break dependencies on strong, over-the-counter laxatives by helping the digestive tract function properly.
Grow your own chamomile in containers or herb bed.
Chamomile is a small evergreen perennial that forms a spreading mat of fine, feathery foliage about 3 inches high. Chamomile is easy to start from seed and can be propagated by cuttings. Sow in full sun or partial shade, in light, well-drained moist soil. Chamomile spreads rapidly if grown under the right conditions. Occasionally clip it with the mower to keep it under control. Chamomile plants like a gravel or rock mulch. The dainty, white flowers are harvested throughout the summer and then dried quickly to retain their rich properties for use in winter months.
* Sometimes chamomile can trigger allergic reactions. Beware if you are allergic to rag weeds, asters, or chrysanthemums. Never use chamomile essential oil when pregnant. Always consult with you doctor before using any herbal remedy.


"The only way to really learn about herbal medicine is to touch and smell herbs, taste them, use them daily, and grow them if possible. Herbal medicine is a way of life. It is not a quick fix." ... Janice Boling, herbalist, web designer, writer, photographer
"Ointment and Perfume Rejoice the Heart." Proverbs 27:9
* Note - the information on this website has not been evaluated by the Food and Drug Administration.
© 2005-2017 website and all content by Janiceboling