Home remedies for bruises include arnica, chamomile, and lavender
Herbs that discourage swelling and promote quick healing are good for treating bruises. Arnica, chamomile, lavender, Saint-John's-wort, or calendula should be applied as soon as possible for best results. Place crushed leaves or petals on bruised area for three hours.
Parsley and pineapple also helps heal bruises
Parsley is another remedy for bruises and can be used as a poultice or in a compress.
Placing a slice of fresh pineapple on a bruise can speed healing. Other things to try include orange slices, aloe Vera gel, yellowroot tea, vitamin E oil, and tea tree essential oil. Ice packs are helpful for soothing a bruised area and cold witch hazel compresses can also bring relief.
Using tinctures and essential oils to treat bruises
One recipe calls for a tablespoon of tincture of arnica flowers, Saint-John's-wort flowering tops, chamomile flowers, and/or witch hazel bark, mixed with 4 drops of lavender essential oil and two tablespoons of ice water. Soak in a clean cloth and apply to bruised area as soon as possible after injury.
Lots of bruises? Add vitamin K to your diet
Vitamin K is recommended for people that bruise easily. Add alfalfa sprouts, sea vegetables, green peppers, citrus fruits, and leafy greens to the diet. Many times frequent bruising is a sign of a more serious problem and a health care professional should be consulted.
* Do not take arnica internally. Always consult with a healthcare professional before using any herbal remedy,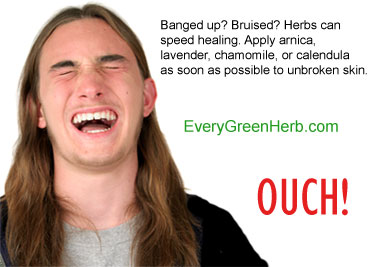 © Lisa F. Young | Dreamstime Stock Photos
Use herbs like arnica, chamomile, parsley, and lavender to treat bruises.