Bergamot essential oil is spicy, delicate, and refreshing
Bergamot essential oil is taken from the peelings of the Bergamot orange. The scent is spicy, delicate, light, and refreshing which makes it a favorite in aromatherapy. Bergamot essential oil is used when treating mouth sores, skin problems, and urinary infections. When treating the bladder, combine with chamomile essential oil for best results.
Bergamot essential oil helps shingles and oily skin
Bergamot helps regulate the appetite, calm the nerves, repel insects, and improve digestion. Bergamot essential oil soothes herpes, shingles, and chicken pox outbreaks. It is good for bronchitis, oily skin, acne, eczema, psoriasis, scabies, varicose veins, skin ulcers, wounds, herpes, and dandruff.
Bergamot uplifts the spirit
Bergamot is used to uplift the spirit, reverse depression, and sedate the nervous system. Use bergamot when treating someone that is exhausted or recovering from an extended illness.
Bergamot essential oil helps insomnia
Bergamot is a powerful antiseptic and should be diluted before use. It is used in natural deodorants and in breath fresheners. Even hardened insomniacs will sleep when given a pillow stuffed with dried rose buds, rose geranium leaves, then sprinkled with bergamot essential oil. Bergamot increases sensitivity to sunlight so do not use on the skin before exposure to the sun.
* Do not take essential oils internally without consulting a professional aromatherapist. Always consult with a healthcare professional before using any herbal remedy especially if pregnant, nursing, or taking other medicines.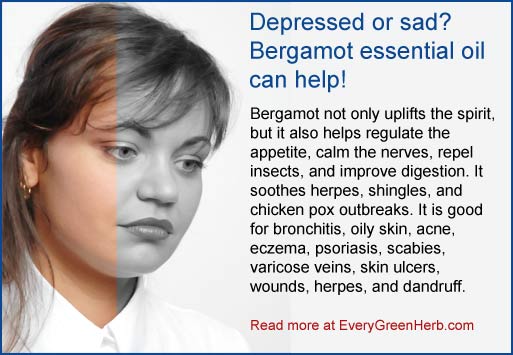 © Abdone | Dreamstime Stock Photos
Bergamot essential oil helps people that are exhausted, depressed, or recovering from illness.