Bay - a magical herb
Bay essential oil is distilled from the leaves and berries of the plant. Considered "magical" by some cultures, it is a potent oil used in prophesy and to avert the evil eye.
Bay essential oil is warm and spicy
Bay essential oil has a pungent aroma that relaxes the mind and body. The scent is warm and spicy, perfect for helping ward off chills during the cold, winter months. Bay essential oil stimulates circulation and can help speed the healing of sprains and pulled muscles when diluted and applied as a compress.
Use bay to treat arthritis
A powerful antibacterial and anti-inflammatory oil, bay essential oil is used in the treatment of arthritis and rheumatism. It is also used to treat earaches and to lower blood pressure. Avoid using bay essential oil on sensitive skin as rash may develop.
Use bay essential oil to treat dandruff
Bay essential oil is often used to treat dandruff and other scalp conditions. Bay can also be used in cases of oily skin but as always, should be diluted first.
Bay leaves are often used in the kitchen especially with soups and stews. Bay, always popular, was named 2009 Herb of the Year by the International Herb Association.
Bugs and bay
Bay is also useful for keeping bugs away. Sprinkle essential oil or use whole leaves in pantries, cabinets, drawers, and closets.
* Never use straight bay essential oil on skin or take it internally. Dilute essential oils before use. Never take internally unless advised by your healthcare professional. Always consult with your healthcare professional before using any herbal remedy or essential oil.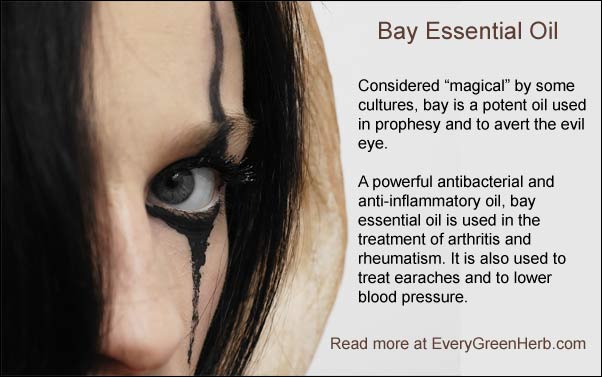 © Abdone | Dreamstime Stock Photos