Basil - Ocimim basilicum (Sweet Basil) - helps fight depression
Basil is very familiar to most people. The fresh and dried leaves are used in many kitchens as a culinary herb. Many cooks use basil on a regular basis in tomato dishes and of course, pesto. A few fresh leaves can really add flavor and freshness to any tomato dish.
Basil can uplift the spirit
Basil is also considered an important medicinal herb. It is used as an anti-depressant. Basil tea makes a warming tonic that helps fight depression. This beneficial action may be due to the fact that the herb stimulates the adrenal cortex (which regulates the stress response). Many people consider basil to be spiritually uplifting. It is useful for grounding a person that tends to be flighty or nervous. Basil can help improve memory and is good for jet lag.
Basil is a good remedy for insect bites
Basil is antiseptic and soothes itching. Leaves can be rubbed directly onto insect bites. The juice also acts as an insect repellant.
Tinctures made from basil can be good for coughs and bronchitis due to it's expectorant properties. It is especially good for lung conditions when combined with hyssop and elecampane. Hot basil tea can be inhaled to help a head cold and sipped to prevent chills.
Basil essential oil stimulates blood flow
Basil can be purchased as an essential oil. This oil is used to fight mental fatigue and nervous conditions. It is never taken internally and is always diluted with a carrier oil such as olive or almond oil before applying to the skin. Basel essential oil is used in aromatherapy and occasionally in massage, but can irritate sensitive skin. In massage, basil stimulates blood flow and helps bring new vigor to tired, over-worked muscles. Basil essential oil is good for headache, allergies, hay fever, and asthma. It can help relieve hiccups.
Basil has been used to treat diarrhea, fevers, intestinal parasites, and skin infections (particularly acne). Many old mid-wives gave basil tea to help patients recover from hysterectomy operations. An infusion of basil leaves, mixed with a little motherwort, was given immediately after childbirth to prevent retained placenta. Basil imitates natural estrogen and can be used to help regulate menstrual periods.
Basil also stimulates the immune system
Basil is known to stimulate the kidneys and the immune system. It helps lower uric acid and may help gout and arthritis. Basil can also help prevent vomiting and can help treat ringworm.
Basil plants are easy to grow
Basil is easy to grow from seeds, but it does not grow well when planted next to rue. Basil is related to mint. A bushy annual, it does not need to be fertilized. Basil prefers full sun, but grows well in partial shade. It likes moderately rich soil that is kept slightly moist. Pinch the stem tips for fuller growth. Harvest before flowering.
* Large amounts of basil should not be taken for extended periods. Basil remedies should never be used in pregnancy. Always consult your physician before using any herbal remedy.
Also see Basil Essential Oil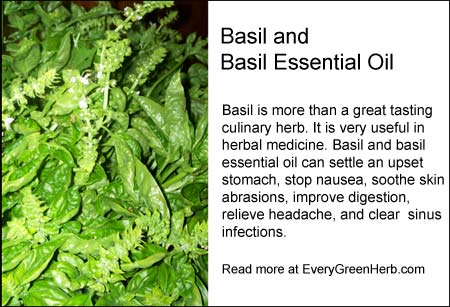 Basil cleanses the body and fights depression. Basil essential oil is also wonderful to use in aromatherapy as it lifts the spirits.