Herbal astringents are great for the skin
Herbal astringents remove excess oil and close skin pores. They are used externally as aftershave lotion and to tighten the skin. Chamomile, sage, nettle, mint, and yarrow make excellent astringents.
Use alcohol, witch hazel, essential oils, and fresh or dried herbs
Astringents are easy to make at home. Put fresh or dried plant material in a mixture of water and rubbing alcohol. Strain after one week. Store the resulting liquid in a bottle with a tight fitting lid. Witch hazel and a favorite essential oil may be added if desired. Shake well before using.
Herbal cough syrups for coughs and sore throats
Herbal syrups contain honey or sugar and are made from infusions and decoctions. They are excellent remedies for bronchitis, coughs, sore throats, and colds. Honey is soothing and the added sweetness disguises the flavor of bitter herbs. Heat the strained infusion, decoction, or tea and add honey or sugar, stirring until well blended. The more honey or sugar that is used, the thicker the syrup will be. Allow mixture to cool and store in a dark bottle. Seal with cork stopper (syrups can ferment and may explode if tightly capped).
Herbal lozenges for the mouth and throat
Herbal lozenges are good for mouth, throat, and upper respiratory problems. Soak a mucilaginous herb such as marshmallow or slippery elm in water for twenty four hours. Stir occasionally. After twenty-four hours, heat to boiling. Cool, strain, and then beat the resulting liquid to obtain uniform consistency (like thin Jell-O). Mix with enough powdered herb (like mullein or comfrey) to form a paste and add sugar to taste. A few drops of essential oil like peppermint or clove may also be added. Roll out on board covered with arrowroot powder (available at healthfood stores) or sugar to prevent sticking. Cut into shapes and leave exposed to the air until dry. Store the lozenges in airtight containers and keep them in the refrigerator until needed.
For homemade lozenges, try adding peppermint, sage, elderberry, horehound, or lemon balm. Other suitable herbs include fennel, angelica, licorice, bee balm , and eucalyptus.
Herbal powders and suppositories
Herbs can also be taken as powders. Just stir into juice or sprinkle on food. They may also be made into suppositories for treating rectal and vaginal problems. Suppositories sooth inflamed mucous membranes, speed healing, and help reduce swollen tissue. They are easy to make at home. Mix finely powdered herbs (like yellow dock, calendula, or chamomile) with enough cocoa butter to make a firm consistency. Roll into bullet shaped tubes about an inch long and place on waxed paper. Put in refrigerator to harden and remove one at a time for use. Allow to come to room temperature and insert at night while sleeping for best results.
Using herbal enemas and vaginal packs
Herbs may also be used in enemas and vaginal packs. Use garlic for killing parasites, harmful bacteria, and viruses. Use aloe vera to help heal inflamed tissue and for hemorrhoids. Use catnip or dandelion for stomach and digestive diseases. Use chlorophyll or fresh wheat grass juice to stimulate the liver and to help remove toxins. For more information about using herbs, see astringents and infused oil recipes 1.
* Always consult with a healthcare professional before using any herbal remedy especially if pregnant, nursing, or taking other medicines.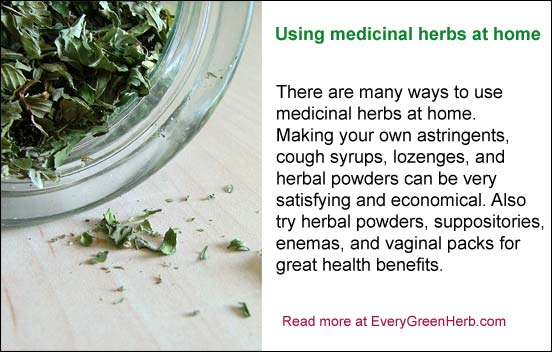 © Ragne Kabanova | Dreamstime Stock Photos
It's easy to use more medicinal herbs at home. Try making syrups, lozenges, and powders.