Start with quality plant material
Herbal medicines can be made at home from leaves, twigs, bark, root, seeds, and flowers. It is easy to use medicinal herbs at home. The most important thing is to have quality plant material. Green herbs or dried, find a herb dealer that you trust. Most herb dealers and healers are honest folks and are not out to hurt others.
Try making some herbal teas at home. Get to know herbs. Let your body, mind and spirit guide you to what will work. Move on to homemade extracts, astringents, washes, gargles, rubs, and other herbal products when you are ready. It is easy! Don't be cheated with capsules full of saw dust -- make your own at home and you will know what is in them.
Extracting beneficial properties from herbs
There are many ways to extract beneficial properties from herbs. The choice of which method to use depends on many factors. Examples -- use herbal teas (steeping plant material in water) for ease of preparation (herbal teas are readily available at grocery stores), use herbal extractions for preserving plant proerties (for winter use), use herbal compresses, poultices, and rubs for external applications, use homemade herbal creams and ointments to protect the skin, and make herbal powders for inhaling. There are many accepted, time-proven ways to get healing herbs inside the body! From strong alcohol-based herbal extractions to gentle herbal ointments, no one way it best. It depends on the situation, what is available, and the desired result.
Making alcohol-based herbal extracts at home
Many herbal extracts are taken internally for everything from cough to nervous disorders. Of course, not all extracts should be consumed by mouth. Use common sense, do some research, and get to know your ingredients! Tinctures, liniments, and pure vanilla flavorings are types of extracts.
Homemade herbal alcohol-based extracts are made by steeping herbal plant material in alcohol (like vodka) for two weeks. When strained, the resulting liquid is called an alcohol extract. Examples -- extracts made from rosemary, mullein or yellowroot and vodka can be taken internally. Extracts made from walnut hull should be used internally with caution. Any extract made with rubbing alcohol should not be used as a mouthwash or taken internally.
Herbal astringent recipe
Use alcohol extraction method to produce chamomile, bayberry bark, sage, nettle, yarrow or mullein astringents. One cup of extract mixed with one cup of witch hazel makes a good astringent (for additional "tingle" mix in a few drops of peppermint essential oil). Bottle, cap tightly, and shake gently before use. Use cotton ball to apply to face or sprayer for use on body. Astringents are good for skin. They kill germs, closes pores, remove excess oil, and make good aftershave lotion. Herbal astringents are usually used externally. More about astringents
Using oil extraction for use in herbal salves
Active plant ingredients can also be extracted in oil. There are two techniques, the hot method and the cold method. The hot method is best for sturdy herbs like comfrey, chickweed, rosemary, and all roots. The cold method is suitable for fragile material like calendula flowers or rose petals. See directions below. The resulting product is infused oil. It is used in herbal massage oils, creams, lotions, and ointments. Tightly-capped Infused herbal oils will last for a year if kept in a cool, dark location, although small amounts made fresh are more potent. Herbal oils are sometimes used for culinary purposes. It depends on the ingredients.
Cold oil extraction method
To make infused oil with the cold method, pack a jar with herbs and cover completely with cold-pressed vegetable or nut oil. Cap tightly and let stand in a cool, dark place for two weeks. Shake gently every day. Strain through jelly bag, and repeat process for two more weeks with fresh plant material. Strain again and store. See homemade mullein tincture recipe for more info.
Hot oil extraction method
To make infused oil with the hot method, put 8 ounces of cold-pressed vegetable or nut oil (almond, walnut, olive, grape seed, or safflower are good) and a big handful of plant material in a double boiler and gently heat over simmering water for an hour or so. Oil should change color taking on the color of plant material. Strain through a jelly bag or double layer of cheesecloth. Store in a clean, airtight bottle or jar.
Making herbal ointments with oil extractions and essentail oils
Ointments can be made with herbal oil extractions and/or essential oils. Often they are combined for extra strength and potency. I often add tea tree oil to my ointments. It helps keep them from going rancid or developing mold.
Varous infused oils (cold and hot) are made into ointments by adding a thickening agent like beeswax or hard fat (100% cocoa butter is good). Coconut oil works, too. Examples -- use rosemary for muscle rub ointment, frankinsense for arthritis ointment, and use rose extract for chapped lips. Directions --put 4 ounces of infused oil into the double boiler, add a small piece of wax or cocoa butter (about a tablespoon), and stir until gently melted and completely mixed. Add about 8 drops of essential oil if desired. Pour into jelly jars or small tins while still warm. Cool before capping tightly. Mixture will thicken as it cools. If herbal ointment is too hard, use more oil or less wax next time. If it is too soft, use more wax.
Do not use a microwave when making herbal products -- microwaves can destroy healing properties. Just heat infused oil and wax until melted together in double boiler on stove top on medium heat, remove from heat, and stir in essential oil if desired. Store in tightly sealed jars or tins.
Ointments help many conditions including dry skin and chapped lips. Try a warming cocoa butter and lavender ointment on winter-weary feet. First soak feet in warm vinegar water. Dry and apply ointment. Put on thick socks. It's like a little bit of heaven on earth. For more information about herbal astringents, herbal syrups, and herbal lozenges visit Making Herbal Medicines at Home Part 2.
* Astringents prepared with ethyl alcohol are for external use only. Do not take astringents, infused oils, or ointments internally. Do not apply to deep wounds. Always use common sense and discontinue use if irritation develops.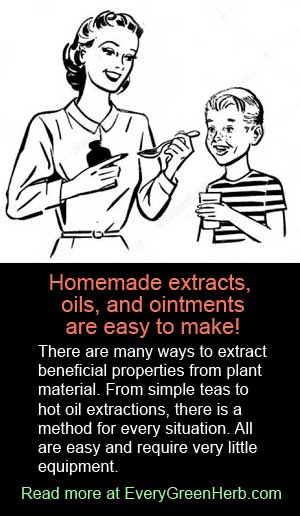 © Helga Kvam | Dreamstime Stock Photos
It's easy to make homemade herbal extractions and infused oils at home.