Calm anxiety attacks with herbs
Anxiety, panic attacks, phobias, tension, stress, depression, insomnia, and nervous disorders are common in today's society. In many cases the underlying cause is fear. Fear of failing, fear of dying, fear of poverty, fear of being alone, fear of the future, fear of change, and even the fear of living causes many negative symptoms.
Anxiety and stress can be relieved with herbal remedies
Prolonged anxiety depletes the body of its natural tranquilizers. Bad diet and poor eating habits contribute to the problem. Add in polluted air, contaminated water, pesticides, environmental hazards, sedentary lifestyles, and the nightly news. It's no surprise that the population is nervous.
Nervous disorders have many and varied symptoms depending on the individual. Inability to relax, mood swings, headaches, heart palpitations, sadness or anger with no obvious cause, lack of motivation, irritability, and feelings of emptiness indicate the presence of a nervous disorder.
Try passionflower, valerian, and wild lettuce herbs for relaxation
Some herbs are especially suited for treating the symptoms of anxiety and stress. Skullcap, passionflower, hawthorn, St. John's wort, valerian, wild lettuce, ginseng, licorice, wood betony, lavender, lemon balm, bee balm (mornada), chamomile, black cohosh, Jamaican dogwood, oat straw, rosemary, barley grass, catnip, lobelia, dandelion, parsley, nettles, evening primrose, peppermint, bee pollen, and watercress are considered useful in the treatment of nervous conditions. The choice depends on various factors including what is available.
Herbs operate on three levels including the body, mind, and spirit. Aromatic herbs and essential oils affect our emotions. Rosemary might be useful in stabilizing mood swings. Bee balm and catnip might aid in getting restful sleep. Valerian, lemon balm, skullcap, or passion flower would be a good choice for the treatment of panic attacks.
Aromatherapy produces great results when treating anxiety and stress. For example, the smell of cinnamon and apples can relieve some cases of depression. It's hard to be depressed when remembering grandma's cozy kitchen or mom's apple pie. Try inhaling lavender essential oil for uplifting the spirit and getting rid of depression.
Essential oils like lavender can calm the body and mind
Neroli essential oil, made from orange blossoms, is known for its calming effects. Combine neroli with lavender and almond oil and use in soothing massages. This treatment will calm even the most severe case of nerves. Angelica essential oil is noted for its ability to aid in relaxation. Just a sniff of the vapors can help.
Another essential oil useful for treating anxiety is rose oil. When damask rose oil is combined with sandalwood or patchouli the calming effect is remarkable. Use in a lotion, massage, or warm bath for best results. Some people find that ylang-ylang is an aid to relaxation. Others might choose chamomile. It takes some trial and error to find out what works best for each individual.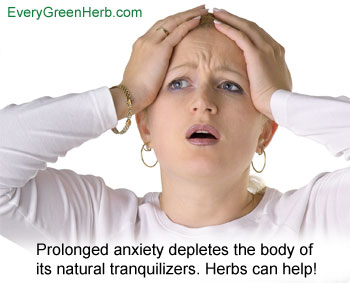 © Olga Vasilkova | Dreamstime Stock Photos
Try medicinal herbs like lavender to treat anxiety, stress, and panic attacks.