Add anise essential oil to insect repellents
Anise essential oil is extracted from the seed of the Pimpinella Anisum plant. It is often added to cough lozenges, perfumes, cosmetics, toothpastes, and insect repellents.
Mix anise essential oil with eucalytus essential oil for chest rubs
Mix anise essential oil with eucalyptus and use as chest rub when treating coughs. Anise essential oil improves digestion and helps relieve headache pain. This oil warms the body and clears the mind. It is good for the respiratory system and helps relax tired muscles.
Herbal ointment recipe
To make anise herbal ointment, melt a tablespoon of beeswax with with two tablespoons of carrier oil. While mixture is still warm add a few drops of anise essential oil and stir well. Place in a small, tightly covered jar and store in a cool place or the refrigerator. Discard if mold appears or scent becomes rancid.
* Dilute essential oils before use with a good cold-pressed carrier oil like olive or almond oil. Never take essential oils internally. Always consult with your healthcare professional before using any herbal remedy or essential oil especially if pregnant, nursing, under the age of eighteen, or taking other medicines.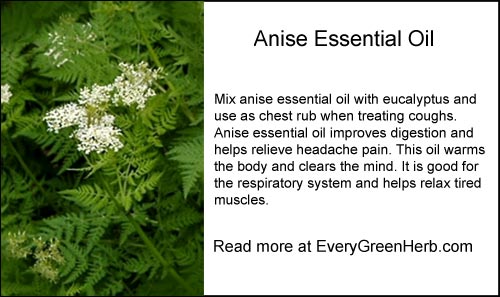 Anise essential oil warms the body and clears the mind -- use in aromatherapy and in herbal medicine.