Use angelica essential oil in ointments
Angelica essential oil is made from the root of the Angelica plant. In ointment form, it relieves pain from arthritis, rheumatism, and gout.
Angelica speeds the healing of bruises, helps brighten the complexion, and is good in the treatment of psoriasis.
Use angelica essential oil in aromatherapy
Angelica essential oil helps relieve stress, aids meditation, and counteracts nausea and dizziness. Inhale the aroma in cases of colds, bronchitis, headache, and cystitis. Position your head over a bowl of hot water and drape a towel over your head to capture the fragrant steam. Breath deeply for ten minutes or until water is cool.
Angelica essential oil speeds up the lymphatic system which helps rid the body of toxins.
Angelica Root
Angelica is also used in root form. Powdered angelica root is used in teas, tinctures, and ointments. It is useful in the treatment of digestion problems, respiratory infections, nervous system problems, earaches, fevers, and flu.
* Do not take angelica essential oil internally. Avoid Angelica in all forms if you are pregnant. Do not use on skin if you have diabetes or anticipate being in direct sunlight. Dilute essential oils before use with a cold-pressed carrier oil like olive oil. Always consult with your healthcare professional before using any herbal remedy or essential oil especially if pregnant, nursing, under the age of eighteen, or if taking other medications.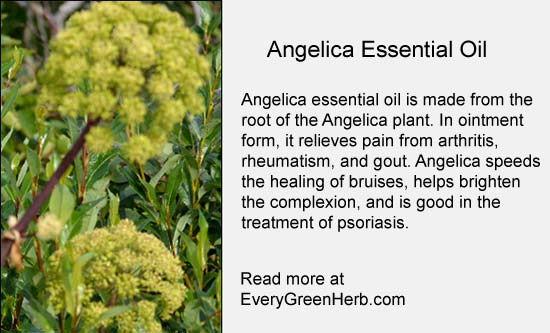 Angelica helps relieve pain from arthritis and gout.
Visit Every Green Herb's profile on Pinterest.