Agrimony soothes mucus membranes and helps heal ulcers
Agrimony (Agrimonia eupatoria) is also known as Cocklebur or Bur Marigold. It is anti-parasitic, antibacterial, and used for soothing damaged mucus membranes.
Agrimony has a high silica content and is good for ulcers. It is sometimes used to treat tapeworm infestation and can be used as a douche for helping get rid of Trichomonss Vaginalis (yeast infection).
Use agrimony in tea and tonics
Aerial parts of the plant can be used in tea form as a soothing eye wash (be sure to strain through a coffee filter first). Agrimony tea is also considered a liver tonic and is good for stopping diarrhea due to its astringent properties.
As noted, the herb is astringent and excellent for treating mucus membranes. Agrimony helps heal the intestinal tract and stomach lining because it reduces inflammation.
Use agrimony to relieve stomach ache
Agrimony is safe for children. Weak agrimony tea is good for stomach problems including colic. This herb may also help food allergies since it stimulates bile flow.
Agrimony was used in ancient times to soak tired, aching feet and has a long history of medicinal use. Agrimony was used to treat eye infections, diarrhea, warts, wounds, snake bites, coughs, flu, and disorders of the gallbladder, liver, and kidneys. It was also placed under the pillow to induce peaceful sleep.
Agrimony plants
Agrimony has hooked seed pods that catch on clothing and animal fur. The bur-like seeds are very sticky, persisting through the winter. Native to temperate regions of the northern hemisphere, the plant is a perennial that grows to heights from one to six feet tall. It has sets of compound leaves that may smell like apricot when crushed. A spike of tiny yellow flowers rises up on a hairy stalk in summer. Agrimony grows in any soil that isn't too wet or soggy and it prefers full sun. Agrimony can be propagated by seeds or divisions and is pollinated by insects. Sometimes used in fragrances, agrimony is also used in dyes.
* Do not take Agrimony internally if constipated because of the herb's astringent properties. Always consult your physician before using any herbal remedy.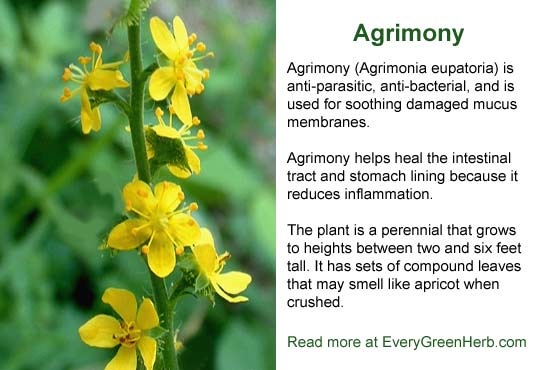 Agrimony helps heal mucus membranes and ulcers.