Acne can be treated at home
Abscesses, known as boils or carbuncles, indicate a depressed immune system. Squeezing can cause blood poisoning. If you must squeeze, first use hot compresses three times a day to soften the skin and bring it to a head. Prepare compress by wetting a clean cloth with hot water containing dissolved Epsom salts.
Herbs can be used to treat abscesses
Other treatments for abscesses and skin problems include exposure to early morning sunlight, applications of fresh garlic juice, Aloe Vera, Echinacea, black walnut extract, tea tree oil, or liquid chlorophyll. Diet can also help. Yogurt, burdock root tea, and zinc supplements give good results. Beta Carotene, Vitamin E, and Vitamin C are also recommended.
Use myrrh for mouth sores
Mouthwash made from myrrh extract is an excellent remedy for dental abscesses and dry sockets. Use mouthwash and apply myrrh extract 2 times a day.
Acne is hormone related and can be aggravated by bad diet. It can benefit from herbs that help remove waste products from the body. Burdock, dandelion, and Echinacea tea should be taken on a regular basis. Use mild oatmeal soap instead of harsh products. Fight bacteria, ease pain, and reduce swelling with lavender essential oil applied full strength in one drop doses. Moisturize at night with light jojoba oil. Rub affected area with fresh cut garlic clove but test on a small area first to make sure that there is no allergic reaction.
Many herbs can heal the skin
Many herbal blends give good results. Blend cabbage leaves with distilled witch hazel. Strain and add 2 drops of lavender oil. Use as a lotion. Other recipes call for a mix of cleavers, yellow dock, and burdock or tea tree oil, rosewater, and witch hazel.
One way to beat acne is to go on a three day cleanse. Eat apples, carrots, pineapples, and papaya with grains and fresh salads. Drink 6-8 glasses of water a day. Rub acne prone areas with papaya and cucumber slices. Cut out all sugar and refined food. Take ginseng and royal jelly (from honeybees), and drink licorice tea. Apply yellowroot and myrrh solutions daily.
For acne around the chin (usually caused by stress), take B complex vitamins. Beta Carotene with vitamin D is also helpful. Try putting fresh pineapple on the scars and take 750 mg. of bromelain daily. Calendula and tea tree oil soap can also be used with good results. Other things to try include facial steams using lavender, eucalyptus, and thyme essential oils.
* Only use one remedy at a time and give it a chance to work. Always consult with your physician before using any herbal medicine. Discontinue use if irritation develops.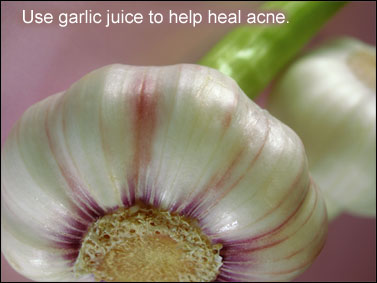 © Mike Mckee | Dreamstime Stock Photos
Apply garlic to acne twice a day for best results.
Visit Every Green Herb's profile on Pinterest.