Learn about medicinal herbs, essential oils, and homemade remedies for common health problems. Also find tips on using natural herbal medicines to heal and protect the body, mind, and spirit.
Under medicinal herbs, you will find links to everything from aloe and bee balm to yellowroot. Individual herbs are the basis of herbal medicine and a great place to start learning about natural healing.
The section on essential oils contains links to information on the most useful and widely available essential oils including my favorite, lavender essential oil. Essential oils are the mainstay of aromatherapy and can be used to treat everything from headaches to skin problems.
In the common health problems section you will find links to articles about everything from building the immunity to treating diarrhea and urinary problems. Various herbal remedies are given for each medical condition.
The general information section contains tips about using medicinal herbs, harvesting herbs, and storing herbs for winter use. Learn about making herbal medicines, natural beauty products, and the importance of diet. Find simple recipes for herbal lotions, potions, tinctures, and teas.
Every Green Herb
"And God said, To every beast of the earth and to every fowl of the air and to every thing that creepeth upon the earth wherein there is life, I have given EVERY GREEN HERB for meat: and it was so. And God saw everything that he had made, and, behold it was very good and the evening and the morning were the sixth day." Genesis 1:29-31
A Note About Cannabis
Many visitors to this site are looking for information about medicinal cannabis. Please see Marijuana is a useful medicinal herb for more information about cannabis and its use in herbal medicine.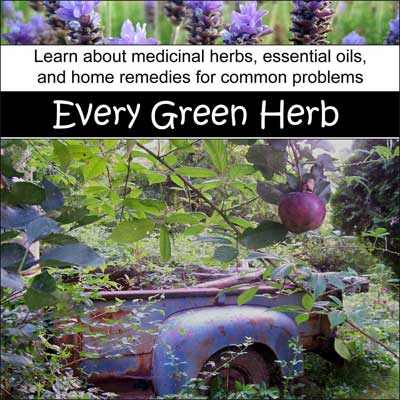 © Janice Boling
Learn about medicinal herbs, essential oils, and home remedies for common problems at Every Green Herb.
"The only way to really learn about herbal medicine is to touch and smell herbs, taste them, use them daily, and grow them if possible. Herbal medicine is a way of life. It is not a quick fix." ... Janice Boling herbalist, web designer, writer, photographer

"Ointment and Perfume Rejoice the Heart." Proverbs 27:9
* Note - the information on this website has not been evaluated by the Food and Drug Administration.
© 2005-2017 website and all content by Janiceboling